30-Day Writing Challenge
Click here to log in if you are already registered.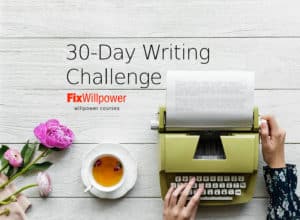 I have put together a 30-day challenge to make you a better writer and build your willpower.
30 days! OMG! You have to be kidding!
No!
If you want your daily writing habit to stick, then you will start with a 30-day writing challenge.
Trust me I have tried it.
Here are the results of my 30-day writing challenge. I needed more to form the habit. Then I took on the write every day challenge. I noticed that writing started to feel automatic around the 100-day mark.
Start with the 30-day challenge. After you complete it you can decide how you want to continue.
Now I am on day 826 of my writing streak. Writing comes naturally, and I'm about 2 times faster.
Take the first step and enroll now. It's free!
PS The challenge is geared towards marketing and SEO in the case you want to get your writing noticed, but you don't have to publish anything. Just you and your writing.