Why you will fail to have a great career: Larry Smith [VIDEO]
Insightful and funny talk by Larry Smith.
Great jobs are disappearing, and so you need to look for a great career. However, there are going to be several reasons why will fail that task.
No matter how many times people tell you that you have to follow your passion you are not going to do it. You find it too hard; you are too lazy. You are going to make excuses why you are not looking for your passion. Stop making excuses right now. I will do this after… NO! You do it now!
One of the excuses is that you have to be lucky to get a great career. So, you will stand around hoping to get lucky. Act now! A year from now you will be sorry you didn't start a year ago.
Action is the foundational key to all success. ~~Pablo Picasso
Get over the fear of being weird. Do whatever needs to be done to get the great results you are dreaming of. Don't sell yourself short because you are afraid of what others might think. It's your passion and your way of doing this, and it doesn't matter what others think.
Another excuse. I would do this, but I'm not weird. People who follow their passion are obsessive, strange, weird, etc. But I am normal and nice. But I really want a good career. So I'll just work really, really, really hard and get to have a great career. NOT!
Working hard at average will not get you to great. So, stop for a minute and think what will happen if you continue to work hard at your good career in 30 years. Will it become a great career?
Now you think, oh, I'm interested in this very interesting thing X. Yay! I look at all human activities, and this is it. I'm interested! Sign me up! But there's a catch; interest does not equal passion. You need dozens of interests, and then one of them might ignite the passion in you.
To do that list the things that you are interested in. Check out this post Improve Your Life #26: Make a List of Your Interests. And be sure to check out this video How To Find And Do Work You Love by Scott Dinsmore.
If you settle for merely interesting, you will miss the opportunities to really matter and make a difference.
But even if you find your passion, you can still fail. You invent a new excuse to avoid taking action. You will say that you will not sacrifice your personal life, friends, family at the expense of great accomplishment. Understand that this is an excuse. Do you really want to look at your spouse and your kids and see your jailers? (Read What are the Important Things in Your Life).
You shield yourself with the excuse of human relationships because you are afraid to look ridiculous, you are afraid to try, you are afraid you may fail.
And that's why you are not going to have a great career!
Unless!
Why you will fail to have a great career: Larry Smith at TEDxUW – YouTube.
Throughout his three-decade career here at the University of Waterloo, Larry Smith has inspired legions of students to take up the mantle of economics with his passionate and homespun tales of economic wizardry. A renowned story-teller, teacher and youth leadership champion, Larry has also coached and mentored countless numbers of students on start-up business management and career development strategies.
Having taught introductory microeconomics, macroeconomics and entrepreneurship classes, he recently celebrated assigning his 29,000th grade earlier this year.
Recipient of the Distinguished Teacher Award, Larry has also coached several of his former students to help them position and develop their businesses, the most famous of which is Research in Motion (RIM), maker of the revolutionary BlackBerry wireless mobile smartphone. Larry also sits on the advisory panels of start-ups to provide his guidance on financing and negotiation with investors and venture capitalists.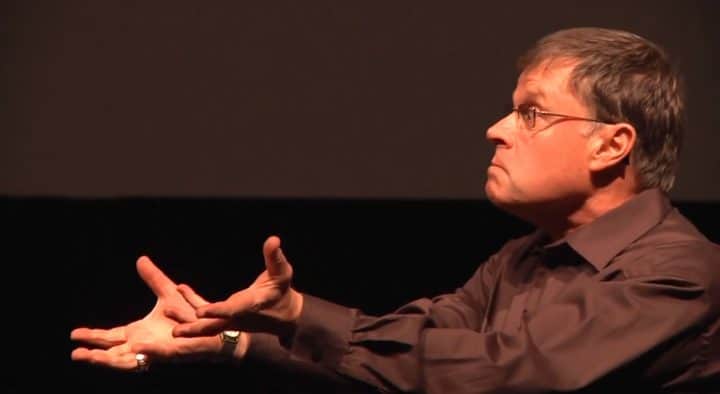 ___________________________
Photo credit: jamjar