Willpower Weekend Reading List – May 24, 2014
It's not why you think. The stress and frustration you're experiencing has nothing to do with what's happening right now in this minute. Really, truly. AND, The stress you're experiencing is nothing more than resistance to what is.
No one said building a company was easy. But it's time to be honest about how brutal it really is–and the price so many founders secretly pay. More entrepreneurs have begun speaking out about their internal struggles in an attempt to combat the stigma on depression and anxiety that makes it hard for sufferers to seek help.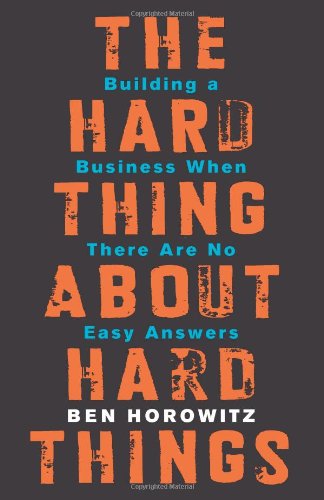 Here's great book on the ups and downs of entrepreneurship The Hard Thing About Hard Things: Building a Business When There Are No Easy Answers. Ben Horowitz, cofounder of Andreessen Horowitz and one of Silicon Valley's most respected and experienced entrepreneurs, offers essential advice on building and running a startup—practical wisdom for managing the toughest problems business school doesn't cover, based on his popular ben's blog.
While many people talk about how great it is to start a business, very few are honest about how difficult it is to run one. Ben Horowitz analyzes the problems that confront leaders every day, sharing the insights he's gained developing, managing, selling, buying, investing in, and supervising technology companies. A lifelong rap fanatic, he amplifies business lessons with lyrics from his favorite songs, telling it straight about everything from firing friends to poaching competitors, cultivating and sustaining a CEO mentality to knowing the right time to cash in.
Filled with his trademark humor and straight talk, The Hard Thing About Hard Things is invaluable for veteran entrepreneurs as well as those aspiring to their own new ventures, drawing from Horowitz's personal and often humbling experiences.
The idea was to chunk my time to minimize the constant multitasking , "role switching," and toggling back and forth between work and home stuff like a brainless flea on a hot stove.
In the lives of busy people, we sometimes forget what's important. These six questions will help you gain focus and productivity. It's easy to get wrapped up in the day-to-day and just do everything as if on autopilot, without much thought for the bigger issues at stake. Asking yourself these questions in busy times will help you stay focused, humble, and on target.
Seth Godin shares his views on taking risks, challenging the status quo and starting a business with Bryan Elliott for 'Behind the Brand.'
I set myself a challenge recently, and I've been failing at it. I decided to only eat bland food, with no variety. The month is only 2/3 over, but I've struggled much more than I'd anticipated.
Looking back on how I got out of my past struggles, it's instructive in my current struggle. I've always gotten out, read about some of the things that worked: